You deserve to live with increased vitality, peace, and joy right now. Ayurveda, the ancient Indian holistic healing system, can help you do exactly that. The ancients protected knowledge we have neglected to preserve – the relation between a woman's creative primordial energy and its connection to nature's rhythms. Ayurveda will help you balance these elements for every stage of your life.
Join us and learn
to intentionally use the body and mind for deeper awareness and consciousness
Ayurveda's techniques for healing hormonal disorders/diseases– from migraines, mood swings, fatigue, hot flashes, and more
practical self-healing tips to move through your day with ease and vitality
recipes for preparing easy, delicious drinks and meals for proper digestion
and more
This workshop will benefit you regardless of age or physical condition. Join us and learn how to use Ayurveda's techniques to live a more healthful, balanced, and harmonious life. You deserve it!
Shweta Parmar's journey to heal from poly-cystic kidney disease and her endless search for her True Self is driven by her reverence and love for Mother Nature,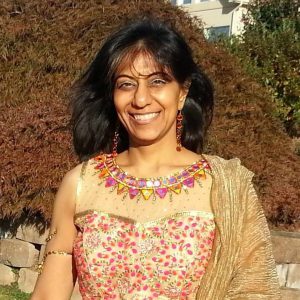 ancient wisdom of Ayurveda, Yoga and Universal Oneness. She is passionate about healthy birthing as an AyurDoula with BabyTheMama. She is committed to teaching women how to take responsibility for taking care of themselves. As an Ayurveda practitioner/therapist with GutsierLiving, she supports people who eat organic and healthy and still feel like crap, regain lasting energy in their day to day. She served as a Programs Director at Edgar Cayce's Association of Enlightenment NYC, and Ayurveda Center of Balance NYC; and faculty member of Ayurveda Sadhana PostPartum Doula program. Contact her at shweta@gutsierliving.com; www.gutsierliving.com.
Register Now
* $45 at the door
* $35 early bird discount by September 26
Venmo
or


Individual consultations and treatments such as Ayurvedic massage, Marma Therapy, and Siddha Varma therapy are available from Sept 18-Sept 30. For more information and to schedule an individual session, contact Shweta directly at shweta@gutsierliving.com or call/text at 267-575-5351