Next Scheduled Dates: April 26-29, 2018
"What do you want to be when you grow up?" It's a question we all know. Now that you've grown up, what are you? Are you a mother or father; a doctor, lawyer or teacher? Are you a girlfriend/boyfriend, husband or wife? We're so focused on the labels we carry around that they become our identities. Who are you underneath all the labels? Who are you without all the stories you tell yourself about yourself? Do you know?
This four-day retreat uncovers who you are but that's just the first night! The next three days help you tune in to the real you. As you refine that inner attunement, your life transforms from one of struggle to a life of meditation in motion.
What to Expect
Each day has a schedule filled with experiences that you'll cherish for a lifetime. Our first day together begins at 5pm with a casual dinner at the temple's buffet.
We'll fill the next two days with yoga twice a day and multiple guided meditation sessions. We'll blend time on the mat with open discussions that turn what you experience each session into something you can take home with you.
On the last day, we'll experience two highly personalized yoga sessions together and reflect on how much life has changed in just this one weekend.
Daily Activities

Multiple yoga sessions
Multiple guided meditation experiences
Time for reflection and journaling
Good company and good food
Location
The entire retreat takes places in the beautiful Sri Sri Radha Krishna Lotus Temple. The majestic Rocky Mountains of Utah surround this exquisite temple. It sits on a hill, nestled among the farmlands of Spanish Fork, Utah. Peacocks, lamas, parrots and koi along with multiple vegetable gardens grace its grounds and pond.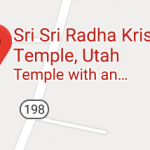 311 West 8500 South
Spanish Fork, UT 84660


Lodging
Local participants typically stay at home and commute to and from the temple each day. Another option is to use AirBnB to find an affordable room to rent for the weekend. You might also be able to find a room with another participant. We have a travel group on Facebook to help you make these arrangements. You can find it here.
Food
There are a number of local cafes and restaurants in the area that provide good food. You can also eat lunch and dinner at the temple's buffet for $36 for the entire weekend.
Registration
Spanish Fork Krishna Temple
April 26-29, 2018
First time participants

$249 (no meals)
$285 (registration + meals)

Returning participants (call 801-251-6242 to register or pay via Venmo below, prior attendance will be verified)

$99
$135 (registration + meals)