There are hundreds of yoga studios and perhaps thousands of yoga instructors and teachers in Utah alone.  Why is Bhakti House so very different from all of these?  There are two aspects that set Bhakti House, its teachers and students apart from local yoga studios.
The first is that Bhakti House's teachers have experienced what they teach.  This doesn't just mean that they know how to do the yoga postures you experience in class.  It means much more than that.  They have firsthand experience with the highest experience of yoga, Samadhi, and can guide you into that same experience with confidence again and again.
The second is that Bhakti House, its teachers and students are the only in-person source of Amrit Yoga in Utah.  Our own Ramdas was the first student of Yogi Desai in Utah and soon became the first Amrit Yoga teacher in Utah.  Ramdas has since trained all Amrit Yoga teachers living in the state.
From Darkness to Light — Ramdas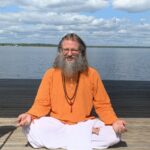 Ramdas
first looked into yoga as a way to help improve his autistic son's gross motor skills.  He soon began practcing yoga himself and quickly discovered that yoga not only iproved the way his body felt but also improved his outlook on life.  For nearly 10 years he continued his own studies into yoga as he unknowingly sought a guru.
In 2009 Ramdas met Yogi Amrit Desai, Gurudev, for the first time.  This meeting would forever change the course of Ramdas' life.  Since that time, Ramdas has lived 12 years depression free.
In March 2014, Ramdas heard Gurudev say, "The purpose of your life is to recognize who you are and to merge with it.  That is yoga.  That is union.  That is love."  Moments later, Ramdas experienced a profound inner awakening.  That awakening moment continues to unfold and allows him to recognize and experience the full expression of Yoga:  A life of amazement without fear.
15 January 2009:  Amrit Yoga breaks 30 years of depression
20 September 2009:  Amrit Yoga Teacher
23 May 2010:  Advanced Amrit Yoga Teacher
10 April 2011:  Initiated into Lakulish Lineage
10 April 2011:  Named Ramdas
7 July 2013:  Named as a Meditation in Motion Mentor
24 March 2014:  Experiential Revelation, "I AM LOVE." detailed account
16 October 2017:  Named as a Senior Teacher of the Lineage

(announced 27 Oct 2017)

10 November 2019:  Named as a Householder Swami
21 February 2021:  Named as a Yogi
4 August 2022:  Named as a Yogacharya
15 October 2022:  Awarded Acharya title

All the above initiated or pronounced by Gurudev, Yogi Amrit Desai
The Man in Black — Chandrakant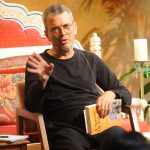 Although
Chandrakant
and Ramdas are guru brothers, there is no question that Ramdas views Chandrakant not only as a chearished brother and friend but as his trusted mentor.  Chandrakant has long devoted his life to the service of Gurudev and of the teachings of Swami Kripalu.
"I have watched him [Chandrakant] closely over the years.  What have I seen?  He always says, 'Don't believe me.  Try it out yourself.'  I've watched him do this himself again and again.  He doesn't just believe Gurudev, he tries it out himself.  I don't even think he believes himself! He always verfies what he learns through his own direct experience.  Always." ~Ramdas
Chandrakant currently resides and teaches in Gainesville, Florida.  Chandrakant and Ramdas spend numerous hours together each week supporting the international community of Meditation in Motion Revealers and disciples.
October 2012:  Named as an Acharya by Gurudev
20 February 2022:  Named as a Yogacharya by Gurudev
Gurudev — Yogi Amrit Desai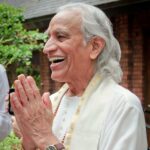 Gurudev
, Yogi Amrit Desai, is Ramdas' guru.  Gurudev began his spiritual journey at 15 when he first heard Swami Kripalu speak in his home village of Halol, Gujurat in Inda.
Thirteen years later, young Amrit Desai travelled to the United States to study at the Philadelphia College of Art.  Despite Gurudev's love of the arts and his great artistic talents, it was yoga and the teachings of his guru, Swami Kripalu, that continually demanded his attention.  Within 4 years of gradutating, Gurudev had trained more than 50 yoga teachers, oversaw 150 yoga classes each week and founded the Yoga Society of Philladelphia.
In 1970, Gurudev experienced a spontaneous awakening within himself.  "Before this, I had practiced yoga for 20 years and was an experienced Hatha Yoga instructor.  Even though I was extremely flexible and performed postures with great ease and understanding of the core principles of yoga, I had never entered such depth of unity.  The true meaning of yoga was revealed to me experientially."  It is from that moment of clarity that Kripalu Yoga and later Amrit Yoga arose.
Gurudev lives at the Amrit Yoga Institute in Salt Springs, Florida and currently teaches online only.  Gurudev and Ramdas meet multiple times each week to write, edit and revise Gurudev's written teachings.
1969:  Named as a Yogi
1980:  Name as a Yogacharya
1982:  Name as a Maharishi
1986:  Name as a Jagadacharya

These and many other titles awarded by Swami Kripalu and other yoga preceptors
Bapuji — Swami Kripalu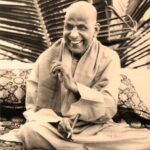 Bapuji, Swami Kripalu (1913–1981), was Gurudev's guru.  He's known as Bapuji.
Bapuji was a master yogi who was dedicated to his 10 hour, daily practice.  He not only maintained this practice for nearly 50 years but also spent 12 of those years in total silence.
Bapuji first began his practice with his guru, Dadaji, when he was 19 years old and took vows as a Swami at age 23.  He was instrumental in restoring the temple at Kayavarohan and restablishing the location as a spiritual and educational center.
1932:  Named Swami by Dadaji
1936 (approx):  Received sannyasa diksha from Swami Shantanandji
Dadaji — Lord Lakulish, Shiva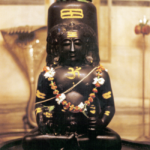 Dadaji was Bapuji's guru.  The murti at Kayavarohan temple is the only image of Dadaji that we have.
In 1932, an old sadhaka met a young man in a small temple in Delhi.  The old sadhaka took the young man under his wing and taught him for the next 15 months.  After that time, Dadaji left Bapuji and 4 years later the young Bapuji took initiation to become a Swami.
A number of years later, Bapuji met a young man who was about 19 and recognize his old guru, Dadaji.  Confused, Bapuji asked Dadaji to explain how this was possible but Dadaji gave only vague answers.  A short time later, Bapuji was directed to restore Kayavarohan to its former glory.
While surveying the situation in Kayavarohan, one of the locals asked Bapuji, Swami Kripalu, to come see what one of the farmers had unearthed years before.  It was a large, black murti.  It's basic shape, that of a Shiva Lingam, was familiar but in front of the Lingam sat the figure of a young man.  Bapuji immediately recognized the young man who was Dadaji and Bapuji fell into a swoon.
When he returned to a waking state, Bapuji learned that this was an image of Lord Lakulish, the 28th incarnation of Lord Shiva, Consciousness itself.