Meditation in Motion Mini-Retreat
Living Life as a Meditation in Motion
In Person: July 22-25, 2021 at Spanish Fork Krishna Temple
Skip to registration
Hello Friends!
There's no question that 2020 and Covid have left strong impressions on people's minds. Often those impressions involve fear, anger and doubt. If that sounds familiar, ask yourself this question:
Am I ready to live free of fear, anger and doubt?
You deserve to live free of fear, anger and doubt.
Do you find yourself making the same self-sabotaging or self-destructive choices over and over again? Why do you do that? It's your past, sometimes called karma. It shows up in the form of fears, anger and doubts that cause you to make the same bad choices over and over.
What if you could live free of that old fear? What if anger and doubt had no control over you? Would you want a life like that? Wouldn't life in 2021 be just a little easier without fear, anger and doubt?
Through a series of yoga and meditation sessions you'll see how easy it is to break the karmic cycle of the past. You'll break free of the prison those past fears, anger and doubts have made for you.
You'll free yourself from the karmic seeds that are holding you back in life. You'll completely deepen and enrich your yoga and meditation practice. Best of all, you'll start living a life of Meditation in Motion. Fear, anger and doubt will lose their ability to push you around and you'll flow with the currents of life without hesitation.
What to Expect
Each day has a schedule filled with experiences that you'll cherish for a lifetime. Our first day together begins at 5pm with an optional, casual dinner at the temple's buffet followed by our first full session beginning at 6:30 pm.
We'll fill the next two full days with yoga twice a day and multiple guided meditation sessions. We'll blend time on the mat with open discussions that turn what you experience each session into something you can take home with you.
On the last day, we'll experience two highly personalized yoga sessions together and reflect on how much life has changed in just this one weekend.
Daily Activities
Multiple yoga sessions
Multiple guided meditation experiences
Time for reflection and journaling
Good company and good food
Daily Schedules
Thursday (5pm-9pm)

5pm Dinner (optional)
6:30pm Opening Session


Friday & Saturday (7am-9pm)

7am Morning Sadhana
8:30am Breakfast
10am Morning session
12pm Lunch
2pm Afternoon sessioon
3:30pm Break
4pm Afternoon Sadhana
5:30pm Dinner
7pm Evening session


Sunday (7am-Noon)

7am Morning Sadhana
8:30am Breakfast
10am Closing
Location
Spanish Fork Sri Sri Radha Krishna Lotus Temple
The entire retreat takes places at the beautiful Sri Sri Radha Krishna Lotus Temple. The majestic Rocky Mountains of Utah surround this exquisite temple. It sits on a hill, nestled among the farmlands of Spanish Fork, Utah. Peacocks, lamas, parrots and koi along with multiple vegetable gardens grace its grounds and pond.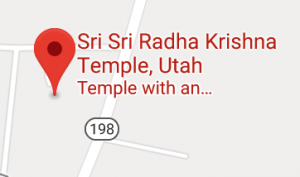 311 West 8500 South
Spanish Fork, UT 84660


Covid Requirements
Proof of vaccination or proof of a medical condition that prevents your vaccination is required to attend this retreat. Bring your documentation with you to the first night of the retreat. Due to health considerations of our teachers, temple staff and participants, no exceptions to this requirement will be allowed.
Registration (meals and lodging separate)
Scroll down to register
Early Registration

Extended through July 17th, 2021


First time participants

$299 — Early Registration

$349 — Regular Registration




Returning participants

$149 — Early Registration

$199 — Regular Registration
Lodging
Local participants most local participants stay at home and commute, often carpooling, to and from the retreat each day. Some turn it into a full retreat and book a room through AirBnB, local hotels/motels. Some have even pitched a tent up Spanish Fork Canyon for the weekend!
Traveling to Utah? We suggest using AirBnB to find an affordable room to rent for the weekend. You might also be able to find a room with another participant or even stay with one of our local participants! We have a travel group on Facebook to help you make these arrangements. You can find it here.
Food
There are a number of local cafes and restaurants in the area that provide good food. You can also eat lunch and dinner at the temple's buffet for $6 per meal or $36 for the entire weekend. (Does not include breakfasts.)
Register
You can register online now at the following page: REGISTER
We will contact you as soon as possible to complete your registration.