2020 & 2021 Apprenticeships
We are no longer accepting applications for the 2019 apprenticeship. The next apprenticeship program will begin in 2021. Ramdas is accepting applications for 4 individual apprentices in 2020. Please call or text 801-251-6242 for details.
Are you passionate about yoga? Have you thought about becoming a yoga teacher or considered teacher training? Are you an aspiring yoga teacher looking to explore the depth of yoga? Are you an established yoga teacher looking to give your students more than just another exercise class? You're the perfect candidate for a Bhakti House Teacher Apprenticeship!
What is the Teacher Apprenticeship? It's a year-long apprenticeship (see the schedule below) that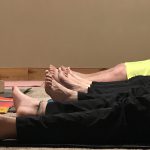 pairs you with one of our established teachers. That teacher will be your personal mentor through the apprenticeship.
Unlike typical teacher training courses, on completing your apprenticeship, you will join the Bhakti House teaching staff. You'll be certified to teach introductory classes, guide Yoga Nidra sessions and lead advanced yoga classes.
You will be eligible to register with Yoga Alliance as an RYT-500, Yoga Alliance's highest designation for new teachers.
We are only accepting 10 apprentice teachers for 2019. Submit your application today or click the topics below to learn more.