Ramdas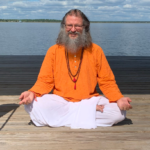 Hello! I'm called Ramdas. I live and teach at Bhakti House! I've been teaching yoga for more than 15 years now and practicing for even longer. Everyday I'm blown away by the changes I see in my life from practicing very simple yoga techniques every day.
My goal in life is to help you see those same amazing changes in your own life, not by spending decades in meditation and learning crazy, hard postures but by spending just a few minutes, every day, doing some very simple techniques. Really, anyone—even you—can practice the techniques I teach and everyone—especially YOU—can get the one thing we all really want out of life: Happiness.
Monica
Jai Bhagwan, friends. I'm Monica. The first thing you should know about me is that I love yoga. I've been practicing yoga since January 2010. I have a 500 RYT certificate and I teach yoga, Yoga Nidra, and meditation classes here at Bhakti House. In addition to teaching yoga, I work as a professor of Hebrew language and culture at Brigham Young University. I enjoy reading, hiking, taking long walks, bubble baths, and dark chocolate. And best of all, my wonderful husband and I are the parents of two amazing children and Sherlock, the bestest best dog ever.
Now that I've got the credentials and basics out of the way I want to share a little bit about my yoga journey. Yoga has completely changed and improved the quality of my life. On the surface, yoga has helped me lose and keep off more than 100 pounds. The physical benefits of my yoga practice are tremendous, but my internal transformation is even more dramatic. For most of my life, I believed that I was unlovable even though I have an amazing husband, children, friends, and family who love me. Deep down, I believed that I was somehow unworthy of anyone's love. This belief caused me a great deal of pain and difficulty in my life. Through my yoga practice, I have come to accept and love myself as I am. I now know that I am lovable and I'm able to accept love in my life. Because I love myself I am completely free to love others without reservation, fear, or the desire to control. This ability to fully give and receive love has brought more peace and ease into my life than I ever thought possible. This is why I teach yoga. I want to share with you what I've received and help you experience more peace in your life.
I also want you to know that I'm not what you might imagine a stereotypical yoga teacher to be. I don't have well-tones abs nor am I interested in having them. My body has curves and I quite like those curves. You will get a good physical work out in my classes, but I'm not very concerned with the muscle tone of your arms. At Bhakti House, we embrace the fact that every body can do yoga and experience the benefits of yoga. Size doesn't matter. Age doesn't matter. How bendy you are doesn't matter. In class, my focus is teaching you to use yoga postures to experience the things that really matter. Feeling less stress matters. Feeling more peace matters. Feeling good about yourself matters.
Radhika