Ramdas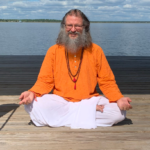 Ramdas is the Senior Teacher at Bhakti House and has dedicated his life to the practice and teaching of yoga.  He's taught yoga for over 20 years and Yogi Amrit Desai and Yogeshwari Kamini Desai have recognized him as a Senior Teacher of the Amrit Yoga Lineage.
The path of yoga that Ramdas follows led him out of 30 years of the darkest depression.  He now focuses on making the ancient secrets of yoga available for practical use in students' everyday lives.
Ramdas is the author of the blog, Everyday Yoga, and the soon to be published book, "What's Your Problem?"
Contact Ramdas